ESI ePhone7
Session Initiation Protocol Business Phone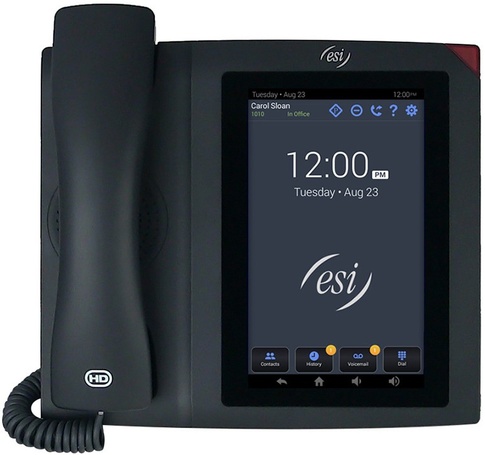 NOTE: Although this phone has been discontinued, please contact us if you need support.
The ePhone7 Session Initiation Protocol Business Phone gives users a desktop phone with a mobile experience. Combined with improved business productivity, the ePhone7 is as simple and intuitive to use as your mobile device.
ESI delivers their most innovative phone yet, the ePhone7 features a touchscreen interface, easy access to contacts, presence indication, visual voicemail, one-touch recording, conferencing and more.
As an integral part of the ESI eCloud PBX solution, the ePhone7 combines the critical features of a business phone designed specifically to enhance workplace efficiency and productivity, ESI maximized the benefits of the cloud by prioritizing the simplicity of use and experience users have come to expect.
Users have access to all inter-office extensions and names, as well as all personal and external phone numbers already programmed in their mobile devices. The ePhone7 is a game changer for business communications.
The ePhone7 delivers a powerful end user experience through the following features:
SIMPLY DIAL BY NAME

Quick access to business or personal contacts. Contacts are managed in a single interface that has the same interactions as a smartphone.

ELIMINATE KEY PROGRAMMING

It is easy to access contacts, as well as create favorites and group lists that replace the need for speed dial and DSS keys.

VISIBILITY INTO THE PRESENCE AND AVAILABILITY OF CO-WORKERS

Visual indicators make it easy to see who is in or out of office and available to communicate.

ONE TOUCH eHELP

Quick access to how-to user videos assist users in learning about how to use new features, therefore driving adoption.
No other business phone vendor has provided a fully integrated approach to communications that is centralized around access to contacts, aligning with the mobile experience. The ePhone7 delivers a unified view of contacts across the desk phone, dashboard and mobile device leveraging ESI Intelitouch™. ESI delivers a business phone that keeps business communications in sync from any location or device.
The ePhone7 changes the way we communicate at the desktop and delivers a complete business experience that matches the expectations of today's workforce. It takes a smartphone experience combined with key business features and delivers it in an intuitive business communication solution.